Security Guards Protect Los Angeles Luxury Apartments & Condos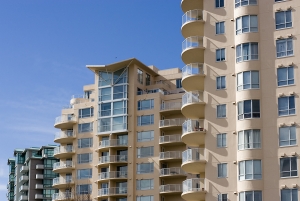 We live in troubling times. Criminals are becoming bolder and crimes more violent. Break-ins, home invasion robberies and assaults at Los Angeles' luxury apartments and condominiums regularly make the evening news.
Luxury condo owners and apartment tenants expect that the high price tags for their homes come with a high level of security. Unfortunately, they are often wrong.
Access Patrol Services (APS), a security guard service company for the Los Angeles area, California and Arizona, deploys guards at condo and apartment complexes and implements security measures designed to protect people and property.
Front Entrance Security. Criminals are often great con artists—they can talk their way into and out of almost any situation. Many will try to enter an apartment or condo building posing as a delivery person or an expected guest.
APS guards are trained to allow only approved and identified individuals onto upper floors. No one gets by them, even with the most convincing story.
Parking Security. A parking structure is often a security weak point in luxury high rises. If criminals can slip through an electronic gate entrance and into a parking structure, they can have free rein in the structure and find their way to tenant units.
APS guards patrol parking structures and are often posted at structure entrances and elevators. They escort tenants and guests to their vehicles for added protection.
Emergency Services. An earthquake, fire, a manmade crisis—APS guards work with building management to create an emergency response and evacuation plan. In many cases, minutes matter. Our guards act swiftly to alert tenants of an emergency and help them to safety.
Contact Access Patrol Services at 866-770-0004 to schedule a no-cost property security evaluation for your luxury apartment and condominium in California and Arizona or click on https://accesspatrolservice.com.