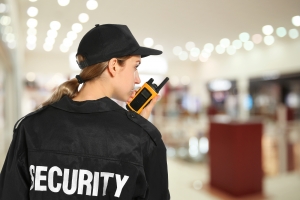 The uncertainty of COVID-19 has adversely affected all industries. But many businesses are slowly recovering and cautiously stepping up to overcome this hard situation by enforcing the guidelines laid by the government and also by employing robust security service.
Moreover, with government guidelines to open shopping malls, the need for security service has increased manifold. One has to be more careful to select proper security service than ever before due to the pandemic.
As the job role of security guards have rambled up to a great extent and is not just confined to some limited activity, it is an absolute necessary for shopping malls to employ stringent security service to keep the mall environment safe.
Current scenario needs security guards to be extra vigilant and specially trained to manage the gathering in an appropriate manner. Enforcing social distancing norm, mask wearing mandate, hand sanitization and checking body temperatures of every individual entering the shopping mall are mandatory tasks for all security guards.
In this pandemic it has been reported that, individuals are more vulnerable to anxiety and depression. As a result, they are behaving indifferently especially with security guards at multiple public points. Many news reports recently flashed incidents where customers were indulged in violent brawls with the security guards, when they were asked to follow proper guidelines. Hence, both unarmed and armed security guards need to be more careful to tackle difficult situations while carrying out their duties.
One of the renowned security guard companies in San Rafael, Access Patrol Services (APS), concedes that to serve security service properly it is utmost necessary to understand the current situation and location. Our guards are highly trained, technologically advanced, BSIS qualified and carry superior experience in the field of security service. Therefore, the guards are meticulously skilled to enforce the guidelines in a dignified manner and to handle any sensitive issue with maturity.
We have an experience of over 50 years in the field of security service, therefore our service quality is incomparable with any other security service provider in the market. We strategically plan the security model to ensure full protection. Additional staffs are placed in the critical and most possible crowded areas such as food court, washrooms and parking lots. Also, security guards patrol the entire mall frequently to check the rooftop, mechanical rooms to ensure there is no existence of unauthorized person. Moreover, after the closing time, armed security guards are stationed at the gates to avoid thefts and vandalisms in the shopping mall.
Being a customer-centric service provider, we also offer customized services. We are open to any suggestions, opinions and modifications from our customer. Therefore, every need and requirement of customer is fulfilled within a short span of time, as our service is available 24/7.
The only reason we have been able to make our mark in the industry is by improvising the security service with the evolving need of the customer and by assuring total customer satisfaction. So, if you are searching for one of highest quality security guard companies in San Rafael, then call us.
Contact Access Patrol Services at 866-770-0004 with questions about security guard duties, responsibilities and functions for commercial office properties in California and Arizona or click on https://accesspatrolservice.com