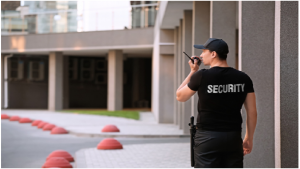 With the rising incidences of crimes, it is getting impossible to retain our peace of mind.  In this critical time, the only way to stay safe and secure is by seeking professional security protection from a trustworthy company like Access Patrol Services (APS).
We, APS understand the vulnerability of the present situation. Therefore, we have built our team with the best security professionals.  The guards hired in our organization are BSIS certified and experienced.  Also, we train them recurrently to boost their skills.  Rapid decision-making programs, power drills, intellectual development programs and many more programs are arranged for our guards.  Hence, it is you get associated with APS security service, then you can rest assured that only quality security service will be provided.
For us, handling intense and unexpected situations proficiently has been our most appreciated aspect. The fact is, we have over 26+ years of experience in the security sphere.  The trust we have garnered from our clients is simply due to our ability to meet their exact security needs and professionalism.  Now, we are known to be the most professional security guard company in Anaheim & Midway City, CA.
Also,  to deliver superlative security protection to our clients, we use various kinds of space-age gadgets such as  CCTV cameras,  GPS monitoring systems,  radio transmitters, flashlights, metal detectors, scanning machines, infrared thermometers, automatic sanitisers, cloud devices, biometric access control devices, alarms, mobile devices and many more.  Therefore, our guards are not only trained and skilled but also highly equipped with advanced gadgets to provide seamless security service to clients.
Moreover, to meet the urgent security needs of the clients, round the clock service facility is also provided to them.  The fact is we do not compromise on the safety of our customers and hence we instantly make ourselves available to safeguard our clients.
Lastly, the most key aspect is that we are open to customized services. We prioritize customers' sentiment and satisfaction. For this reason, before, chalking out security strategies or security plans, we hear out all the needs and preferences of the customers and then only proceed to make a final security plan. Also, we offer short term contract facilities to our clients.
Therefore, if you are seeking quality security service, then choose APS as it is the most professional security guard company in Anaheim & Midway City, CA.
Contact Access Patrol Services at 866-770-0004 with questions about security guard duties, responsibilities and functions for commercial office properties in California and Arizona or click on https://accesspatrolservice.com