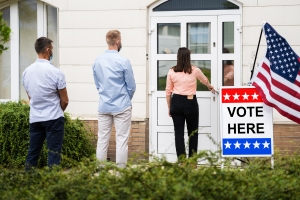 Elections are an important part of any democratic country. It is essential that every citizen is able to cast their vote according to their will with no coercion imposed on voters. In some situations, skilled security guards are necessary to keep order and prevent disruptions.
Access Patrol Services (APS) is an experienced, professional security guard company in Industry & Walnut that provides security guards who are trained to provide a number of specialized security services including security of voting locations and local government meetings open to the public.
APS only employs BSIS certified guards to a site.  In the security business for more than 25 years, APS matches guards with the right set of skills to the job.APS understands that skillfully managing of large groups where emotions can run high is essential during public meetings. APS guards are trained to sense any potential problems that may arise and address them without increasing tensions. APS guards keep a subtle yet professional approach while enforcing the rules and regulations of public meetings
APS structures a detailed security plan before called to secure a location so that the guards are positioned strategically to ensure protection is provided to the entire area.
For easy coordination and seamless security service delivery in Industry & Walnut, APS uses the latest technologies such as radio transmitters, CCTV cameras, GPS surveillance cameras and more.
If you are searching for a trustworthy security guard company in Industry & Walnut, contact Access Patrol Services at 866-770-0004 with questions about security guard duties, responsibilities and functions or click here: https://accesspatrolservice.com.