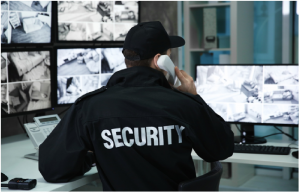 Today, the staggering rise in crime numbers has been a consistent concern across the globe. Studies show that last year the rate of homicide rose to 31 per cent. It is appalling that convicts are now finding it way easier than before to commit crimes fearlessly. Another survey revealed that the reason behind such surge in crime numbers is due to misutilization of technologies by the convicts. Felons are now effortlessly hacking confidential information and molding it in their favor. Duping biometric access controllers, resetting door access keypad, altering face recognition systems etc., have become extremely common.  Hence, the call of the hour is to get robust security protection from a reliable company which can outsmart such manipulative minds.
We, Access Patrol Services (APS) are the most prominent security guard company in La Puente & West Covina, CA that offers highly professional security service by imbibing advanced technologies into our services. Also, we make sure that all the guards that are appointed in our organization are BSIS certified and are scrupulously trained individuals. So, only after thorough screening, they become part of our organization. Plus, we repeatedly conduct training programs for all our guards to boost their physical and mental capabilities. Usually, power training; crowd control management, intellectual development and rapid decision-making programs are some of the training programs that are mandatorily provided to the guards to keep them robust and flexible.
Most importantly, prioritizing customer satisfaction has always been the goal of APS. The amount of commitment and dedication of APS to serve unparalleled services to clients is rare to find. And due to this reason, we have been a dominant player in the security service industry for more than 25 years.
Also, APS constantly tries to remain modernized and advanced in the security field and thus various kinds of technologies are used by our guards while delivering security service facilities to clients. CCTV cameras, metal detectors, scanning machines, GPS monitoring systems, automatic sanitizers, infrared thermometers, cloud software, mobile devices, flashlights etc., are some of the gadgets that are extensively used by our guards for delivering flawless services to clients.
The unique aspect of APS is it does not depend on any pre-determined security plan rather it formulates a security model only after visiting the client's site. Hence, only an accurate security service facility is delivered to the client for robust protection. Besides, a 24-hour service facility is also provided to clients to address their emergency security needs.
Therefore if you are searching for a top security guard company in La Puente & West Covina, CA for robust security protection, then immediately get in touch with APS for the same.
Contact Access Patrol Services at 866-770-0004 with questions about security guard duties, responsibilities and functions for commercial office properties in California and Arizona or click on https://accesspatrolservice.com