Escalating Thefts and Burglaries Deepens the Need for Security Guards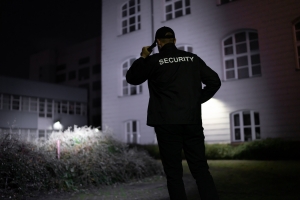 Imagine after returning from a beautiful vacation you see your properties left vandalized and your valuables stolen! This is not at all a bizarre situation to imagine. Infact, you must have heard stories about houses getting robbed in the absence of the house owner.
Thieves and burglars tend to easily target those shelters, in which the owner or the members stay mostly outside for work or vacation. The houses become easily accessible for break-ins when there is no one around. However, this can be prevented if proper precaution is taken.
First of all, it is necessary to install proper security system with latest technology attached to it such as access control devices, CCTV cameras etc. Installation of such high-end devices would help the owners to monitor the entire house without being actually present on the site. Another way is to employ professional security guards who will patrol the entire area to ensure full safety is being catered. But the truth is, only the combination of both security system and security guards can provide you ultimate protection. Opting out from any of these options cannot guarantee total safety.
It is also crucial to understand that, leniently employing any security service provider would also not decrease the risk as there might be chances of receiving poor service quality. Hence, you should rely on trained and professional security guards for strong protection to avert any crimes at your residence/area. Access Patrol services (APS) has been enlisted to be one of the finest security service providers that offers security guards who are supremely trained, skilled, BSIS qualified and technologically advanced.
Our unique ability to provide a comprehensive solution by understanding the customers need and also by analyzing the factors that is required made us to be the most demanded security guard company in south San Francisco. For instance, if crime rates are high on the client site (assigned location), an immediate upgradation on the strategic planning is implemented to ensure total safety and security is rendered to the location. Therefore, when you are out for a vacation or for work, you can be rest assured that your place or house is in complete protection. We try to deliver accurate service where there is no room for any complaints.
Moreover, our guards are familiarized with several types of critical situations due to the vast experience of around 50 years. Hence, they have a rich onsite experience with them to tackle any impending dangers.
Therefore, if you are searching for an advanced level of security service then APS is a security guard company in south San Francisco that can provide you ultimate protection.
Contact Access Patrol Services at 866-770-0004 with questions about security guard duties, responsibilities and functions for commercial office properties in California and Arizona or click on https://accesspatrolservice.com