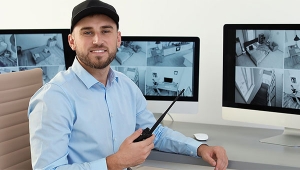 Need for security guards due to increase in number of violent crimes
Recently released data shows that the total number of crimes in the U.S was 1.21 million in 2018. Many businesses could benefit from a security guard service to protect their people and assets. Using due diligence to select a security guard provider is a must to ensure high quality service.
Access Patrol Services (APS) is a security guard company in Valencia that genuinely cares about its customer. We only deliver professional and quality assistance to clients with our highly qualified and trained security personnel. All the guards are Bureau of Security and Investigative Services (BSIS) certified and are rigorously trained. Even in this COVID -19 pandemic, we are serving clients throughout California and Arizona to help combat the spread of the virus.  Hospitals, banks, private companies and government institutions are using our guards.
Our fast and quick action in times of emergency is our strength. Our team constantly adapts to new methods and technologies. We use GPS surveillance systems, metal detectors, scanning machines, infrared thermometers and access control devices to ensure that you get the best quality security service.
We always provide customized services to fit your unique security needs. We listen first, analyze your security situation and then offer a comprehensive strategy with fair and transparent costs.
If you want to hire best quality security service in Valencia, you can rely on APS is a security guard company in Valencia. Our wide range of security services will provide you with the security you need.
Contact Access Patrol Services at 866-770-0004 with questions about security guard duties, responsibilities and functions for commercial office properties in California and Arizona or click on https://accesspatrolservice.com.