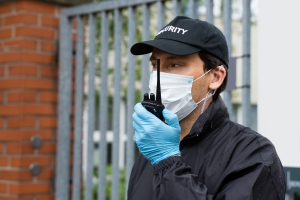 Vacations are a delight for everyone, which we all look forward to. As it is said that "all's well that end's well" vacations could only be perfect when it ends on a great note. Imagine after returning from a blissful vacation, you find your home to be vandalized with your most prized possessions and valuables stolen. Nobody would want to experience such a nightmare and therefore, the need for security guards remains a necessity especially for vacant houses to keep it safe and secured.
We cannot deny the fact that we feel a bit insecure about our home when we are away. Hence, to ensure that your home is fully protected a very reliable and trustworthy security service is what you need. For this, you should conduct a thorough due diligence to check the credibility and authenticity of the organization from where you are employing the service. It is best to rely on a security guard company which has been in this domain for a long period of time. There is no denying about the fact that employing services from an experienced organization ensures high quality and total satisfaction. It is due to their rich domain expertise that will make them provide the best services to you.
We, Access Patrol Service (APS) are an all-round security guard company in Roseville that provides the most professional and quality security service. We have been in the market for over 50 years and therefore, carry a huge amount of experience. Owing to this experience we have built a strong security service team consisting of both armed and unarmed security guards to provide the finest quality service. All the armed and unarmed security guards are BSIS certified and are highly trained to handle any difficult situation. Moreover, our super efficiency and immediate decision-making skills makes us stand apart. Whether it is a vacant building or your house we chalk out the best possible solution to ensure maximum protection.
Moreover, our 24-hours service facility can address your urgent security requirement at any time. Needless to say, APS security guards are one of the finest and highly qualified security personnel, who are intelligent, strong and vigilant. One can highly depend upon the security services of APS, as we operate mainly on customer satisfaction. We thrive to provide the best of service to each and every customer so that the goodwill of the company stays intact.
If you are someone searching for a highly dependable security guard company in Roseville, then do contact us. You will not be disappointed at all that is our promise.
Contact Access Patrol Services at 866-770-0004 with questions about security guard duties, responsibilities and functions for commercial office properties in California and Arizona or click on https://accesspatrolservice.com.