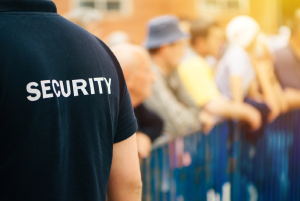 Get absolute protection for your event by hiring top-grade security guard company in Santa Maria & Santa Barbara, CA
Criminals these days are smart and manipulative! They look out for events and social gathering to fulfill their devious motives. So, outsmarting these criminals require skilled security professionals. Undeniably, in an event chaos and confusion is inevitable, and so if you don't arrange for robust security service from a trustworthy company like Access Patrol Services (APS), then you might have to regret later.
Our organization, APS provides best security solutions to customers based on their needs and preferences. Our massive experience of around 25 of experience in this domain has made us the most trusted professional security guard company in Santa Maria & Santa Barbara, CA. Besides, we only employ BSIS certified guards who are former military and law enforcement officers. And thus, no uncertified or poorly skilled guards are deployed to any place or event area.
Besides, we also train the guards meticulously to enhance their efficiency level. Therefore, our event security guards in Santa Maria & Santa Barbara, CA. are adept in handling any critical situation that may arise in an event. They are even great crowed controllers and can tackle large number of irate and critical individuals efficiently. Besides, the guards remain active throughout the event and continuously patrol the entire area to detect and diffuse brawls, fights and suspicious activities which may pose threat to the event. In addition to this, our guards are also capable of detecting impending danger quickly. Thus, they are also quick decision maker who can take rapid action in times of need. Basically, our event security guards enforce the rules and regulations of the event effectively, so that there is no chance of chaos and confusion.
The most salient feature of our organization is, before rendering security service to any event, our security specialist first visits the area and formulates a robust security model. Thereafter, right number of armed, unarmed, static and mobile guards is allocated to the site for complete protection. Besides, all the guards are positioned carefully and strategically so that the entire perimeter of the event area is covered under our security surveillance purview.
Besides, since we highly prioritize customer satisfaction, we offer best customized service facility in the market. Our customers have full liberty to formulate and add security specifications as per their needs and preferences. For instance – if our customer demands more number of armed security guards in his/her event or more number of foot patrol guards than vehicle patrol guards, then we immediate arrange the service within a very short span of time. Besides, we don't drag our customer into many formalities for these changes.
Therefore, if you are searching for highly professional security guard company in Santa Maria & Santa Barbara, CA, then contact us ASAP.
Contact Access Patrol Services at 866-770-0004 with questions about security guard duties, responsibilities and functions for commercial office properties in California and Arizona or click on https://accesspatrolservice.com