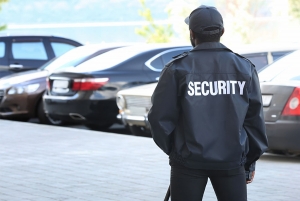 As the number of COVID cases continues to decline, businesses are asking their employees to return to physical workspaces. That means office building parking lots and garages will soon return to near pre-COVID vehicle levels. Unfortunately, criminals will return too, set on breaking into vehicles and robbing employees as they walk to and from their cars. Parking security guard protection is needed to keep employees and their vehicles safe.
Workers Feel Vulnerable. Your employees shouldn't have to worry about their safety when in the company parking lot or garage. Yet, according to the Bureau of Justice, over 2 million property crimes and over 400,00 violent crimes occur in parking lots and structures each year. These crimes include physical attacks, robberies, vehicle theft, break-ins and vandalism.
Onsite Guard Presence. Security guards are assigned to patrol in marked vehicles or on foot. Guards check for intruders in stairwells, by elevators and building entrances. The objective to is maintain a safe environment and discourage criminals from entering the premises.
Guards also escort employees to their cars–especially at night when workers can feel uneasy walking alone.
Security Cameras. Prominently-placed security cameras with real-time feeds help significantly with parking lot safety. Off-site personnel monitor the feeds 24/7 and if they see something suspicious, they immediately contact on-site guards or police to respond.
With crime on the rise in cities throughout California and Arizona, count on Access Patrol Services (APS) to supply trained and experienced security guards to protect your property and workers.
If you'd like to discuss you parking security guard protection, call Access Patrol Services at 866-770-0004 or click on https://accesspatrolservice.com.