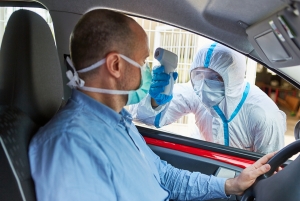 Hulking need for security guard increases due to rise in COVID-19 cases
Human emotions are driven by instincts. For instance, when we see uniformed and armed security guards around us, we feel safe and secure. We feel that nothing can go wrong in their presence. This feeling of protection is necessary to achieve a complete peace of mind. Constant patrolling on the site by armed and uniformed guards helps to deter crimes, as thieves, burglars, criminals get intimidated when they notice that the place is being guarded by uniformed and armed security guards. Therefore, it is essential to appoint a robust security system that will create a safe and secure atmosphere around us.
To appoint security guards from a reliable source, it is necessary to conduct a due diligence process. It is because of the presence of innumerable security guard companies in the market the need for the process is an absolute necessity, to understand the authenticity of the companies.
However, when we talk about authenticity and finest professional security guard service in Valley Glen, one company which would surely top the chart is Access Patrol Services (APS). We are a company that maintains an entirely different approach to serve its clients. We strictly follow "Zero tolerance to unprofessionalism" and thoroughly believe that "customer is the king". So, if any guard falters to abide the same are not abetted in the company. According to our customers, our service is flawless and highly professional.
Our main priority is customer satisfaction; hence we only deploy those security guards who are highly trained and professional apart from just holding the BSIS certificate. Since we are overly cautious of our service and reputation, we hardly leave any room for mistakes. So, when you are associated with us, your tensions take a backseat. You can simply leave your concerns regarding safety on our shoulder and focus on your life and work.
We have not achieved this supremacy overnight, our 50 years of dedication towards providing top notch security service has led us to this colossal success. We also believe that technology has also contributed a larger part in this success. The improvisation and accurate service delivery would have been impossible without the adaptation of new and innovative technologies. So, with time we kept on updating our methods and technologies. The usage of GPS surveillance system, CCTV camera, scanning machines, metal detector, access control device, infra-red thermometer, sanitizing machine and many more help us to provide high quality services.
Another fascinating aspect of APS is, we provide best customized service to our clients. The amount of attention we provide to our customers is difficult to find in the industry. Any personalized service request is immediately analyzed and delivered on the site within a very less span of time.
Therefore, if you are looking for a 24/7 robust security guard service in Valley Glen that will take care of your every security need then call us today.
Contact Access Patrol Services at 866-770-0004 with questions about security guard duties, responsibilities and functions for commercial office properties in California and Arizona or click on https://accesspatrolservice.com