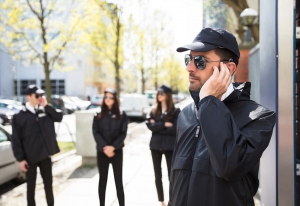 The reasons to hire APS
Feeling unsafe has a tremendous effect on mental and physical health. Employing professional security services for protection can certainly help relieve the stress. Trained and professional guards are essential to preventing criminal activity from occurring in homes, businesses, schools, events and other locations.
It's not one size fits all. Access Patrol Services (APS) deeply respects our clients' security concerns and provides comprehensive, customized security solutions by addressing each specific client security issue. APS has more than 50+ years of experience in the security service industry and has served more than 2,000 sites. All APS guards have successfully passed rigorous security training through the Bureau of Security and Investigative Services (BSIS). APS is one of the most trusted names in the industry.
The highly trained and qualified security personnel are super-efficient and vigilant, offering around the clock patrols. Evan after receiving their BSIS guard license, our guards must successfully pass annual BSIS continuing education courses and specialized APS training by our supervisory team. While in the field, guards are monitored through GPS devices so supervisors are constantly in touch with guards and know where they are at all times during shifts. This training and supervisory procedures ensure that only quality security guard services in Stevenson Ranch are provided.
APS unarmed and armed security guards are courteous and well-mannered. Their utmost priority is client satisfaction. Our guards are trained to always communicate with clients and the public in a professional manner, creating a rapport and trust.
APS is known for providing the best solutions to its customers. We formulate security plans based on our analysis of the location and the client's security issues and requirements. After walking the site and listening to client concerns, APS makes security suggestions and a security plan and budget that fits the client's needs.
Our plans are flexible. We can change or modify security procedures in the middle of an agreement–for example–if a client wants to institute a more of vigorous patrol services by using armed security guards instead of unarmed security guards.
Why contact APS?
APS has been in the field providing security services for a variety of clients for more than five decades. Our experience in providing security guard services in Stevenson Ranch, Santa Clarita and Newhall area speaks volumes about the capability and efficiency we can deliver. Whether it is about adopting innovative technologies, manifesting high professionalism or delivering quality service, we are one of the best in the industry. We combine everything that a customer would require in a security service provider.
Contact Access Patrol Services at 866-770-0004 with questions about security guard duties, responsibilities and functions in California or click on https://accesspatrolservice.com.