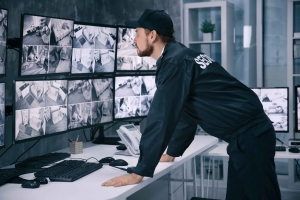 Why Choose APS

The role of security guards is the most unnoticed and taken for granted aspect for a secure society. Security guards are important not only to help deter crime on your property but also safeguard your loved ones. Because there are so many security service providers in the market, it's hard to choose the best for your needs.
Nothing beats experience, especially in the security sector. Access Patrol Services (APS) is a security service provider with 50 years of experience in the security service in sylmar . Over the years, we have served more than 2,000 sites. Our performance is unparalleled in the industry.
9 Quick points of APS
Qualified security guards: APS security guards are highly qualified, knowledgeable and are certified under Bureau of Security and Investigation Services (BSIS). We use only BSIS licensed, experienced security guards.
Trained security guards: APS frequently conducts vigorous training sessions and continuing education to keep security guards competent and efficient. Guides must successful complete this ongoing training remain employed with us.
Around the clock service availability: Uninterrupted service is available to clients throughout the day and night. Customers can access the service at any point of time.
Customized services: APS provides personalized services to customers. Customer's specific requirements are carefully reviewed and a customized, site-specific security plan is created for our guards to follow.
Usage of innovative technologies: Innovative technologies are a central aspect of our security routines. For example, a GPS surveillance system is used to monitor and communicate with onsite security guards. Scanners, alarm systems, metal detectors and security cameras are used for surveillance and security purpose.
Specially trained COVID- 19 security guards: All APS security guards are specially trained to help businesses comply COVID -19 health mandates. Our guards receive regular updates to adhere to the rules and regulations by the businesses as well as state and local governments. Proper social distancing norms, masks requirements, using hand sanitizers, checking body temperatures using infrared thermometers are all part of training.
Quality inspection: Frequent quality inspections are done by our supervisors and dispatchers to ensure our guards are providing superior quality service to clients and following security plan guidelines.
Cost effective: APS is customer-oriented company. We provide high quality security guard services in Sylmar at reasonable rates.
Why contact us?
At APS, we understand the power of customer satisfaction. We treat every customer with special care and ensure that every client is satisfied with our services.
Contact Access Patrol Services at 866-770-0004 with questions about security guard duties, responsibilities and functions in Sylmar or click on https://accesspatrolservice.com.