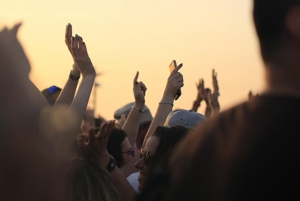 Over the past several months we've seen disasters where people have died or been injured when crowds have gotten out of control. Security guards are key players when it comes to crowd control.
Crowd Control Security Guards. After two years of canceled concerts and holiday events, people are attending in record numbers. In many cases, event organizers aren't prepared to handle these large turnouts.
Proper event security planning is key. Security guards are experienced in crowd control. The security team walks the location before the event, assessing entry and exit points and developing safe exit strategies in case of an emergency. They also devise a plan to address how to approach individuals or a group of people who are misbehaving and who might trigger others in the crowd to react or panic.
Besides preventative techniques, trained event security guards watch for signs that an area is overcrowded, exits are becoming blocked and the crowd's demeanor is becoming agitated. They also take the lead to safely evacuate people in case of fire, or natural or manmade emergencies.
Whatever kind of event—from music to sports, to holiday or street events—select event security guards experienced in crowd control.
Access Patrol Services has more than 25 years in the security business. It provides fully licensed armed and unarmed guards and is insured and bonded for up to $1 million. For more information about event security services in California and Arizona, call Access Patrol Services at 866-770-0004 or click on https://accesspatrolservice.com.