Security Guards Ensure The Public Follows Safety Rules As Cities Begin to Reopen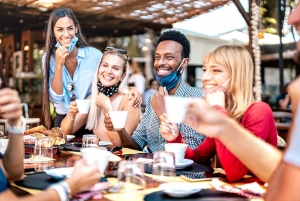 Gathering restrictions are beginning to loosen across Arizona even as its average cases per 100,000 people remain one of the highest in the county and the state is closing in on 14,000 COVID-related deaths. Maricopa County (Phoenix, Mesa and Chandler) are reporting the highest death rates. Despite these unsettling numbers, Arizona restaurants are allowed to open at half capacity. To avoid a surge in cases, security guards ensure that the public follow safety guidelines.
Retail Store Security Guards. As infection rates begin to fall in Arizona and more people receive vaccinations, it's natural that some people will let their guard down when in public. Security guards at shopping malls, restaurants, grocery stores and other locations are on the lookout for people not complying with health rules. If they see someone who is noncompliant, guards are trained to politely ask that they follow the rules (sometimes even offering a mask to a maskless person). If that fails, they will escort the individual off the property, and when necessary, will contact the police if the individual becomes unruly.
Public Property Guards. With spring right around the corner, more people will want to congregate outdoors—in parks and on hiking trails. Even when outdoors, health rules still apply. When the weather warms, additional security guards will be at these public locations to monitor compliance with social distancing and face covering ordinances.
Access Patrol Services provides short-term and long-term security guards services in Maricopa County and throughout Arizona  For more information, call 866-770-0004 or click on https://accesspatrolservice.com. APS can deploy security guards to you location immediately upon request.