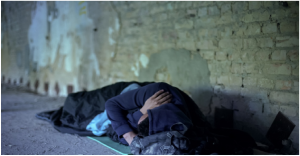 Almost 5, 53,000 homeless people reside in the US.  And so, you can imagine how serious this issue is. Even, tackling homeless people have become mentally daunting task for many house owners.  Most often homeless people inhabit private place intentionally or unintentionally and handling them with right behavior becomes highly strenuous. Therefore, recently many house owners are taking help from professional guards to tackle them with right behavior. If you are someone who is daily encountering homeless people in your private space and don't know how to tackle them rightly then our organization Access Patrol Service is there to solve your problem.
Our organization, Access Patrol Service (APS) is a renowned security guard company in Sunnyvale & Santa Clara, CA, that has a team of highly trained and experience security guards to deal with homeless people. They are highly sensible individual who know how to keep a right approach while dealing with the vagrant people. Since, this is a highly sensitive issue, our guards refrain themselves from taking any violent action until and unless the situation.  Moreover, they keep themselves well informed regarding the contact details of the support centers and NGO's. Keeping such information handy helps the guards to direct or guide the homeless people to the right place. The most important factor is, all our guards are BSIS certified and so no unskilled, uncertified or untrained guards are deployed to the client site.
The fact is, since we have over 25 years of experience in this field, we are immensely capable of handling sensitive issue like homelessness.  Our security guards for homeless people possess great convincing skills and so they can interact efficiently with homeless people. They ensure that the vagrants leave the occupied place peacefully. Moreover, our security guards for homeless people keep a compassionate yet firm tone while dealing with the issue.
Besides, our guards patrol the assigned area in every 20 minutes to deter trespassing.  The most important aspect of our guards is they are quick in identifying impending danger and thus they can act speedily to diffuse or pacify critical situation. Often it is observed that, when security guards try to instruct homeless people to move or shift from the spot, they refuse to do the same and become violent. During those circumstances our security guards know how to handle such situation in the right manner as they are well experienced. They act in calm and composed manner.
Therefore, if you are someone searching for a professional security guard company in Sunnyvale & Santa Clara, CA, then get in touch with us ASAP. Guaranteed 100% quality service will be provided to you. Besides, we also provide customization facility, so you can formulate security plan or choose security specification as per your needs and preferences.
Contact Access Patrol Services at 866-770-0004 with questions about security guard duties, responsibilities and functions for commercial office properties in California and Arizona or click on https://accesspatrolservice.com