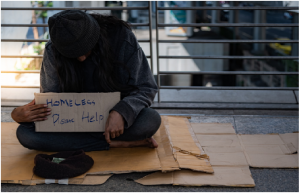 Dealing with homeless people is a mentally intimidating task. It requires a lot of patience, compassion and a balanced approach to deal with them when they accidentally inhabit our places.  And therefore, specialized security guards of Access Patrol Services (APS) are required to deal with homeless people in an appropriate manner.
The guards of APS are BSIS certified protectors who not only have the ability to prevent uncertain threats but also they are sensible enough to tackle serious issues like homelessness.
Honestly, APS is a well known security guard company in Dana Point & Laguna Niguel, CA that offers a wide range of security service facilities to clients. The company has more than 25 years of experience in this field and thus has great exposure to meet the accurate security needs of clients. Therefore, if you are often facing homeless people inhabiting your space intentionally or unintentionally, then you can definitely choose us, as we have a team of dedicated security professionals who can handle such issues.
Our security guards for homeless people Dana Point & Laguna Niguel, CA are trained to have a balanced approach while dealing with homeless people. They understand that instructing and directing these people can be tough as some might be submissive while others can be aggressive. For this reason, the guards take a very neutral approach while asking homeless people to follow certain instructions. The fact is, the security guards of APS keep a compassionate yet firm tone while asking them to shift or move from the client's area.
Besides, our security guards for homeless people remain well informed about the contact details of the police station, nearby support enter, contact numbers of NGO portals to guide or shift the homeless people in the right direction.
Apart from this, APS's guards continuously patrols the client premises to ensure there are no trespassers in the assigned area. Also, they ensure no suspicious activities piles up in the backyards to ensure complete safety of the clients from uncertain threats.  And hence, APS's guards provide 24-hour service facility along with foot and vehicle patrol services.
Moreover, numerous advanced technologies such as RFID tags, CCTV cameras, GPS monitoring systems, metal detector, biometric access control systems, radio transmitters, scanning machines, mobile devices, flashlights, cloud software are used by the guards of APS for delivering seamless security service facility to clients.
Therefore, if you are someone, looking for a well known security guard company in Dana Point & Laguna Niguel, CA, then gets in touch with us ASAP.   You can be 100% sure that only professional security services will be provided to you at a reasonable rate.
Contact Access Patrol Services at 866-770-0004 with questions about security guard duties, responsibilities and functions for commercial office properties in California and Arizona or click on https://accesspatrolservice.com