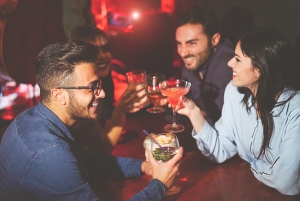 With coronavirus cases rising among young adults, there have been calls to resume lockdown restrictions of restaurants, bars and nightclubs (bars were just ordered closed in seven California counties). Safety protocols are not  always being followed. Of the approximately 2,000 restaurants visited over a recent weekend, Los Angeles County officials found that half were not following county health guidelines. Enlisting the help of restaurant security guards is one way to ensure patrons follow social distancing and mask wearing rules.
Screening Before Entry. A security guard station should be a customer's first stop before entering a restaurant. Guards conduct temperature checks and explain the social distancing requirements to patrons before they are allowed in. Sometimes, these reminders coming from a security guard carries more weight than if they were to come from a front desk employee.
Monitoring Behavior. Once patrons enter an establishment, many feel they can do as they wish. On-duty guards are often tasked with giving customers warnings for not following health and safety rules. If the behavior persists, they will be asked to leave, and when necessary, escorted off the premises.
Of course, management must take the health restrictions seriously. Guests often follow management's lead. If rules are ignored, odds are good that the location will be forced to close and possibly fined (as we are seeing in California, Arizona and around the country), or worse, the number of overall virus cases will rise so high that all gathering places will once again be ordered to close their doors.
Contact Access Patrol Services at 866-770-0004 with questions about restaurant, bar and nightclub security guard duties, responsibilities and functions or click on https://accesspatrolservice.com.