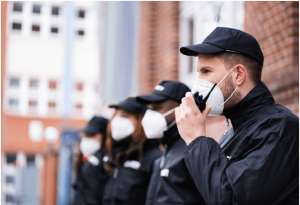 Your security guards may be vulnerable, unprepared and unable to carry out the task they were hired to protect you and your property if they lack the correct security guard equipment. Security guards in Los Angeles have demanding job, so providing them with the right tools empowers them to feel confident and capable in any circumstance. For them as well as the customers they serve, it's an issue of safety.
Depending on their specific duties, security guards in Los Angeles may need different equipment. However, there is some essential equipment that guards should have. This article will assist you in ensuring that your team is equipped with everything required to carry out the duties efficiently.
Heavy-Duty Combat Boots
Most of the time during the workday, security guards and police officers are on the go. For them to be able to run after someone on various surfaces, they must wear boots that are both light enough to run in and comfortable enough to stand in for a long time.
Service Belt
A guard may easily carry and have access to pepper spray, a torch, handcuffs, a taser, a pocket knife, and a firearm with the correct security gear belt. However, a bad scenario can worsen if the security guard fumbles for equipment or doesn't have it available when needed, or it can prohibit the guard from performing their duties.
Medical Kit
The security officer might arrive on the scene first if there is an accident on the property. They must either carry a small first aid kit or have easy access to one at the guard post.
Body armour
For armed security guards who operate in complicated circumstances, armour, such as a bulletproof vest, offers an extra layer of protection.
Smartphone
In addition to communicating with co-workers and clients, a mobile phone's camera helps record occurrences and calls for assistance. Another method for communicating with other guards fast is a two-way radio.
Flashlight
Sometimes, there are scenarios when the guards need extra lighting, like- checking on a wounded person or monitoring the dark corners of a pub. If the guards are on patrol at night, they should unquestionably have a flashlight with them.
Other helpful equipment could be:
Rechargeable batteries
Night vision glasses
identity card lanyards
Waterproof footwear
Raincoat
A security guard's presence might be priceless. Ensure they have the security guard gear they need to serve you and protect themselves if you hire one for your business, event, or residential security.
Contact Access Patrol Services at 866-770-0004. For more details, click on https://accesspatrolservice.com.