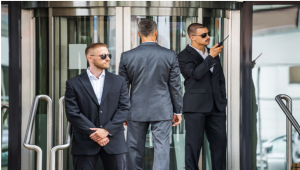 For devotees, houses of worship are havens of serenity and reflection where people can come together, introspect, and look for peace of mind. But, unfortunately, hostile forces have started to target them more and more. As a result, religious institutions need robust security systems. They ought to invest in customizable defences that will safeguard their members, clergy, and visitors and their core purpose.
Here are some reasons why religious institutions should hire security guards in Mission Canyon
There Is a Threat Indeed
Sad to say, but in recent years, hate crimes have increasingly targeted places of worship. These episodes significantly affect people involved psychologically and physically, ranging from massive vandalism to violent assaults on worshippers. However, strong security measures that are professionally evaluated and deployed can dissuade potential criminals while protecting those who visit religious institutions.
Security measures may lessen criminal activity
Crimes can be avoided with security measures, including motion detectors, access control systems, and surveillance equipment. Potential trespassers are less likely to try to commit a crime if you establish a noticeable security presence around your business or facility since they are aware of being observed. Modern access control technology also enables your religious facility to restrict who has access to specific locations and when. This safeguards sensitive records and assets inside your facility while preventing hate crime perpetrators.
How to Professional Security Systems Help?
Professional security measures also give your congregation overall peace of mind. Regular service attendance is more likely when people feel safe in their place of worship. Attendance and financial support are increased as a result. Furthermore, placing expert surveillance equipment all across the interior of your building will serve as a deterrent for criminals who might be seeking a convenient target.
Yes, today's religious organizations and places of worship require robust security measures. However, that should not or does not make them less approachable or peaceful. Instead, taking action to create the essential defences sends a signal to a world in transition that belief cannot be shattered, undermined, or bullied when everyone comes together for the common good.
At Access Patrol Services, our team is always ready to help. When visiting your place of worship to inspect the grounds, examine the current security plan, and pinpoint potential risks, our security experts will do so with the utmost respect and care. Religious security officers provide several degrees of protection, including round-the-clock surveillance, scheduled patrols, after-hours watch, and special event security.
Hire Security Guards in Mission Canyon for your religious facility.
Contact Access Patrol Services at 866-770-0004. For more details, click on https://accesspatrolservice.com.