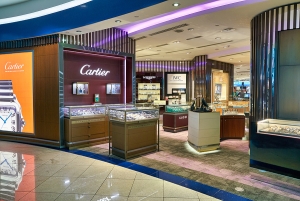 Shoplifting and organized crime ring (OCR) theft increase dramatically during the holidays. This increase in retail crime during the holiday season signals a need for an increase in retail security guards.
According to the National Retail Federation, retailers lost $94.5 billion due to crime in 2021 including losses. OCRs are becoming more aggressive and violent in their store takeovers. It's estimated that retail crime during the holidays makes up over 35 percent of total theft for the year.
Why Does Crime Increase? One theory is that an increase in seasonal foot traffic makes it harder for store employees to keep an eye out for shoplifters. Shoplifting is a crime of opportunity. If a retail store is short-staffed, items will be stolen.
With OCRs, it's much the same. If crime rings believe there is little or no security at a store to physically prevent them from stealing, they will. They don't seem to care if the theft is caught on video cameras.
How To Prevent Holiday Retail Crime. A strong security guard presence in a store is a powerful deterrent for the individual shoplifter. Along with signs warning that shoplifters will be prosecuted, a would-be shoplifter may decide it's just not worth the risk.
Stores with high-end merchandise should consider using several guards stationed throughout the store during the holidays. OCRs count on outnumbering a lone security guard, but when there are multiple guards, they know the odds are no longer in their favor.
Access Patrol Services has more than 25 years in the retail security business. It provides fully licensed armed and unarmed guards and is insured and bonded for up to $1 million. For more information about retail security services in California and Arizona, call Access Patrol Services at 866-770-0004 or click on https://accesspatrolservice.com.