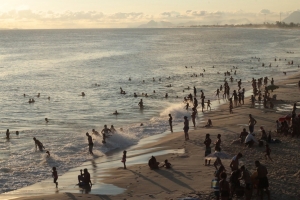 Security guards protect public property to prevent crime and to keep everyone safe. Locations include public parks, beaches and lakes.
Park, Beach and Lake Security Protection. Public parks and water locations sometimes attract unsavory individuals looking to cause trouble. A recent incident at a San Pedro beach where five people were shot is the latest example. The city was forced to close the beach on weekends in an attempt to curb an increase in violence. Instead of closing the area to law-abiding beachgoers, security guards can be stationed in beach parking lots and along the sand to ensure everyone is behaving legally. A strong security presence will convince most would-be criminals not to take the chance that they'll be caught.
As we head into spring and the weather begins to warm up, more visitors will descend on public parks, beaches and lakes to cool off. It is the responsibility of cities and counties to keep the locations free of crime.
Access Patrol Services is a bonded and experienced security guard company that provides security for public areas in California and Arizona. All our security guards are licensed and can be armed or unarmed.
For more information about public property security guard services, call Access Patrol Services at 866-770-0004 or click on https://accesspatrolservice.com.