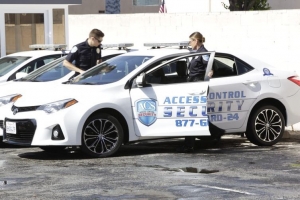 Car break-ins are on the rise. In 2017, there were 243,000 thefts from cars in California. In San Francisco,
there are about 70 auto burglaries a day. One of the prime locations for car burglars is apartment
garages and parking lots. Apartment residents as well as property managers can take steps to reduce car
break-ins and vandalism.
Apartment Resident Tips. Here are suggestions for apartment residents to reduce the chances of theft
from their vehicles.
Keep Car Doors Locked. As obvious as it seems, people still fail to lock their car doors after
parking. Thieves are looking for easy targets. An unlocked vehicle is preferable than one where the thief
has to break a window to enter.
Keep Valuables Hidden. Don't leave cell phones, packages, expensive clothing or other desirable
items in plain sight. Lock them in the trunk or hide them from view.
Add A Security Deterrent. Whether it's an electronic alarm or steering wheel lock, consider
adding a devise to your car. While a steering wheel lock won't keep a thief from breaking in, they are
visible and will show burglars that you're serious about theft prevention. Most likely, they'll pass on your
car.
Property Management Tips. Apartment complex owners may be held liable for car break-ins in
apartment garages or parking lots. To reduce crime and possible liability, management should take
preventive measures.
Apartment Security Guards. Trained security guards often patrol apartment property including
parking lots and garages. Their mere presence can persuade a would-be thief to change plans. If guards
see a suspicious person or a break-in in progress, security guards immediately contact police.
24-7 Security Camera Monitoring. Unless security camera feeds are monitored around the
clock, these cameras can't stop a crime in progress. With 24-7 security camera monitoring, trained staff
views the live feeds continuously. If an intruder or criminal activity is detected, onsite security guards
are immediately alerted for quick action and police are notified.
Contact Access Patrol Services at 866-770-0004 for all your apartment security needs in California and
Arizona or click on https://accesspatrolservices.com.