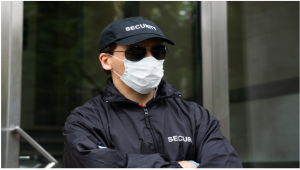 According to the legal definition, private security officers are also regarded as peace officers. Although they cannot arrest people, private security guards can manage hazardous circumstances. Both on-site professional security guards and the senior management team in the business must take the required steps to address such circumstances and ensure the safety of their visitors and patrons.
While employing security services, one thing office and facility managers take into consideration is Price.
And while cost-effective options are often tempting, the question is, is hiring cheap security services in Bell Gardens worth it?
Employing cheap security services seriously threatens public safety and may jeopardize clients' property, people, and assets. Therefore, cheap security is inadequate security.
Dedication
Do you know the saying, "You get what you pay for"? Private security services are a true reflection of this adage. The probability is that cheap security service providers will show poor dedication, resulting in poor security management. But on the other hand, the security officers will be motivated to work harder for the clients when rewarded- like an increment in their hourly rates or ranking system.
The public and the security officers receive the wrong message from cheap security firms. Cheap security is an attempt at raising profits, but it fails to retain clients because of weak performance and incompetency.
Training
Before working shifts, private security guards need complete both classroom and field training. Several topics, including surveillance, access control, emergency protocols, patrols and documentation, should be covered in detail throughout the training. To save money, cheap security companies will skip this stage. This irresponsible behaviour puts the security guards' and the clients' safety in danger. Professional security guards who work for a reputable security guard firm are given the training they require to succeed.
Motivation
For security services to be effective, security officers must remain motivated. Cheap security firms struggle to keep their employees motivated. This may cause security guards to miss shifts, show up late for work, skip work altogether, or neglect security lapses. The client may believe they receive the most incredible offer on private security forces. But the truth is disturbing and could jeopardize the client's business.
Cheap security firms might also decide to deploy unarmed guards into dangerous situations where they should be armed. However, this practice is highly unethical and hazardous for the security guard.
But the good news is, all these possibilities hold untrue at Access Patrol Services!
You can get cheap security services in Bell Gardens without compromising on quality. Call 866-770-0004 or visit https://accesspatrolservice.com.