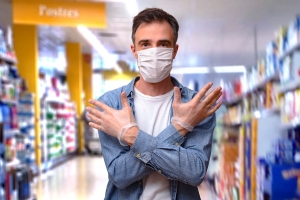 Instances of violence against retail workers are on the rise. Some customers are upset that they have to wear masks and follow other coronavirus guidelines. Short fuses seem to be the norm in the unsettled world we live in. Retail workers are vulnerable. Security guards are now being assigned to protect retail employees from harm.
Violence Against Retail Workers Grows. A recent Los Angeles Times article detailed a list of instances where customers have attacked store workers. Workers have been yelled at, spit on, punched and even killed. According to the article, asking that facemasks be worn appears to generate the most agitated reactions, but store policies such as not accepting merchandise returns can also set off customers.
Security Guards Offer Protection. Store managers are realizing that more needs to be done so their workers are safe. Security guards are stationed at front entrances to ensure the mask rule is followed. If a customer does not have a mask, one is offered. If the customer refuses to wear the mask, the guard turns the customer away. Guards are instructed to always remain polite, yet firm.
Guards are also placed throughout the store to make sure customers continue to comply with health regulations. If a customer becomes belligerent with a worker, a guard is notified who will then attempt to deescalate the situation. If that fails, the customer will be escorted from the store.
This crisis will eventually pass. Until then, security guard companies such as Access Patrol Services are here to provide needed protection.
Contact Access Patrol Services at 866-770-0004 with questions about store security guard duties, responsibilities and functions in California and Arizona or click on https://accesspatrolservice.com.