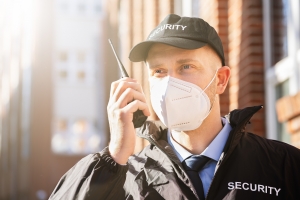 At present, retaining peace of mind is not easy.  Murders, extortion, robberies are usual occurrences in day to day life.  But, the greatest risk is assuming that it won't happen to us.  If you constantly overlook or fail to see the importance of security protection, then it can be death-defying. So, before it's too late, get yourself protected with professional security services.
Access Patrol Services (APS) is a highly trustworthy security service provider in Poway & Escondido, CA that deploys only trained and BSIS certified guards for client's protection. The guards provided by APS are well-trained in numerous critical security aspects. Training often includes power drills, fire drills, first responder awareness training, rapid decision-making programs etc., which keeps the guard physically fit and mentally prompts. Hence, APS guards are robust to take strong measures to provide complete safety to clients.
Over the years, APS has been greatly trusted by numerous clients only due to its flawless security service delivery.  The truth is, APS holds rich experience in the security domain as it has been in the market for more than 25 years. Therefore, delivering accurate security service facilities is APS's forte.
To meet the expectation of clients security needs, it not only provides a customized security service facility but also visits the assigned site to analyze the security requirements of the premise. Hence, the security experts of the APS initially scrutinize the layout to carry out risk assessment procedures and then only proceed to originate a solid security model for the total safety of the client, their premises and their properties.
In addition, APS is a tremendously technology-driven company and hence use various latest gadgets to provide errorless service to clients.  For instance – radio transmitters, mobile devices CCTV cameras, GPS monitoring systems, alarm systems, etc.  So, if you are hiring APS's service, you can relax and keep your tensions at bay as it is the most highly trustworthy security service provider in Poway & Escondido, CA.
Moreover, APS provides all types of guards including armed, unarmed, static, mobile, uniformed and non-uniformed.  Therefore, as per client's preferences, APS deploy a mix of all these guards to provide complete professional security protection. Also, 24-hour service facility is offered to clients to address their urgent security needs.  Honestly, since the guards are positioned on a shift basis, you will always find them proactive and highly professional.
Most importantly, APS follow "zero tolerance to unprofessionalism". Hence, if any unprofessional behaviour is observed from the guard's end then strict action is taken against them. Quality is not compromised in APS. So, you can be 100% sure that only professional security protection will be provided to you if you hire APS' security service facility.
If you want further information, contact Access Patrol Services at 866-770-0004 with questions about security guard duties, responsibilities and functions for commercial office properties in California and Arizona or click on https://accesspatrolservice.com