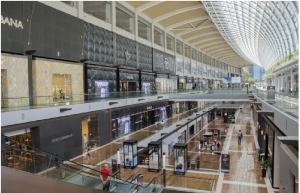 Providing security to shopping malls is complex and demands a number of aspects to be taken care of to ensure the premise is completely protected.  Starting from checking bags and purses of the visitors to ensuring the decorum of the premise, every aspect should be paid attention to discard chaos, confusion or uncertain dangers transpiring inside the mall. Therefore, to protect mall premises it is essential to employ only BSIS security guards from Access Patrol Services (APS) who are specially trained to protect large premises.
APS is a renowned security company in Apple Valley & Hesperia, CA that carries over 26 years of experience in the security service field.  Hence, it deeply understands every critical security aspect that is required to protect shopping premises. The security guards of APS are well adept at handling large crowds, taking rapid decisions in times of emergencies and enforcing mall guidelines to the visitors. Therefore, mall authorities can utterly trust the security protectors of APS.
The fact is, APS provides vigorous training to all its guards to boost up their existing skills. The training sessions include rapid decision-making programs, intellectual development programs, power drills, first responder awareness programs and many more. Most importantly, APS structures a detailed security model of the assigned mall premise only after scrutinizing the layout. Once it is done, sufficient numbers of armed, unarmed, static and mobile guards are positioned to all the sensitive spots to provide absolute security cover to the shopping premise.
Besides, APS believes that in this modern era, without proper assistance of technologies it is impossible to render flawless security service. For this reason, APS keep their guards well equipped with various latest gadgets such as radio transmitters, metal detectors, CCTV cameras, scanning machines, GPS monitoring systems, etc to provide absolute shopping mall security in Apple Valley & Hesperia, CA.
Most importantly, some section of the shopping mall security guards is specially allocated to patrol the premise to make sure the guidelines of the malls are adhered to by all the visitors and discard all sorts of fishy or wary activities inside the shopping mall premise.
Needless to mention, APS also offer customization security facilities so that mall authorities can add security features as per their needs and preferences.
Therefore if you are searching for the most renowned security company in Apple Valley & Hesperia, CA for shopping malls security then you can completely rely on APS. 100% guarantee quality services to will be delivered at a reasonable rate.
Contact Access Patrol Services at 866-770-0004 with questions about security guard duties, responsibilities and functions for commercial office properties in California and Arizona or click on https://accesspatrolservice.com