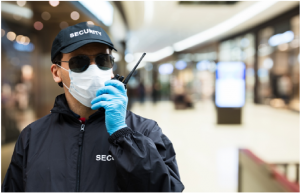 Shopping malls are hot and happening places where you can get everything under one umbrella. And as the festive season is approaching, shopping malls are starting to witness heavy footfalls. And due to this reason, currently shopping centres require hard-line security service facilities.
If the security service is not up to the mark, then chances of petty thefts and vandalism can transpire inside the mall. Therefore, shopping mall authorities should escalate security facility especially during the period of Christmas and New Year.
However, with the presence of so many security service providers in the market, getting genuine or authentic service has become a challenging task.  So, if you are someone in charge of shopping mall security, it is advisable to conduct due diligence of the security provider before you take their services. But, if you don't want to indulge yourself in such a hectic procedure then relying on a veteran company like Access Patrol Services (APS) can be your one-stop solution for shopping mall security in Laguna Hills & Aliso Viejo, CA.
The reason APS is majorly preferred by shopping malls is due to its accurate and high-quality security service facility and also due to its extensive experience in this domain.  The fact is APS is a 25-year veteran security guard company in Laguna Hills & Aliso Viejo, CA and thus possess high efficiency to deliver the best security protection to any premises.
Also, since APS is highly conscious about their service facility, they deploy only trained and BSIS certified security guards to the assigned shopping mall. In addition, the shopping mall security guards of APS are provided training which includes power drills, crowd control management, first responder awareness programs, rapid decision-making programs etc., Therefore, the guards of APS are highly skilled and robust to protect large premises like shopping centres. Also, since they are efficient crowd controllers, they know how to handle huge gatherings in a proficient way.
Needless to mention, APS utilizes a wide range of advanced technologies such as CCTV cameras, radio transmitters, metal detectors, GPS monitoring systems, scanning machines, infra-red thermometers, automatic sanitizes and many more to deliver errorless security service facilities to shopping malls.
Most importantly, before rendering service facilities to assigned shopping centres, the security experts of APS visit the premise to formulate a comprehensive security model. The plan is formulated keeping in mind all the critical areas of the shopping malls. And, based on that security plan, guards are positioned to the various points of the shopping centre to provide absolute security cover.
Therefore, if you are searching for a highly professional security guard company in Laguna Hills & Aliso Viejo, CA, for shopping mall security, then gets in touch with APS for the same. APS also have a customized security service facility.
Contact Access Patrol Services at 866-770-0004 with questions about security guard duties, responsibilities and functions for commercial office properties in California and Arizona or click on https://accesspatrolservice.com