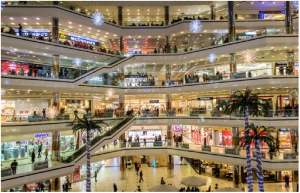 Be it posh brand stores or food courts or gaming zones, malls are places that attracts people of all age groups.  Especially during weekends or festival season, malls witness maximum foot traffic which heightens the risk of crime occurrences. Often times, petty thefts and vandalism have been observed when malls witness a little heavier foot traffic.  Hence, it is mandatory to tighten the security services inside a mall as convicts these days are way more manipulative and quicker.
Access Patrol Services (APS) is an advanced security service provider in San Gabriel & Alhambra, CA that offers professional shopping mall security services by:
Providing highly skilled BSIS certified: APS is quality conscious and hires only top quality security guards who are BSIS certified. No uncertified guards are employed in APS.
Implementing State-of-the-art technologies: APS recognizes that without involving advanced technologies, it is near to impossible to render errorless service. Therefore, RFID tags, GPS monitoring systems, CCTV cameras, metal detectors, radio transmitters, audio deterrent alarms, scanning machines, flashlights, automatic sanitizers,  infra-red thermometers, infra-red thermometers, etc.,  are used  by the guards of APS to ensure the assigned mall is robustly protected.
Formulating unique strategy: The best part of APS is, it follows its unique strategy and hence before providing services to any mal premise, the specialists of APS scrutinize the layout to find out the critical and sensitive spots. Once it is identified, a strong security model is structured focusing on all the difficult areas to render tight security cover to the mall. Also, a proper blend of unarmed, static, mobile and armed security guards is positioned to the assigned site for handling all kinds of difficult situation.
Conducting intensive training: APS believes that from time to time training is highly essential to keep the guard's flexibility and robustness intact. And for this reason, power drills, crowd control management, first responders programs, rapid decision making programs, intellectual developments programs etc are conducted for the guards to boost their physical and mental skills.
Apart from this, the APS's guards are instructed to check every visitor before they step inside the mall to ensure they aren't carrying any harmful objects that may threaten the safety of other visitors in the mall or the premise itself.
Honestly, over 26 year APS has been dominating security industry due to its indomitable spirit to deliver professional security services to all types of premises.  Hence, relying on APS means guaranteed security protection.
So, if you are looking out for the most preferred and advanced security service provider in San Gabriel & Alhambra, CA  for  shopping mall security in San Gabriel & Alhambra, CA   then get in touch with APS for the same.
Contact Access Patrol Services at 866-770-0004 with questions about security guard duties, responsibilities and functions for commercial office properties in California and Arizona or click on https://accesspatrolservice.com