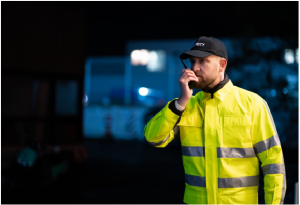 It's difficult right now to keep tensions in check. If you go deep into the statistics, you'll find that in 2021, the number of killings in California rose by 17%.  Robberies, murders, and thefts are frequent crimes that happen every day in California. Therefore, it might be life-threatening in this stressful period if we aren't aware of our safety and security.  Access Patrol Services (APS) experienced security guards are a need if you wish to receive better security protection.
APS is a highly skilled security firm in Irvine and Anaheim, California that provides clients with strong security solutions based on their requirements and preferences.  The security officers engaged by APS are highly skilled, BSIS-certified, and trained security officers who are skilled in managing all kinds of urgent situations. They are perceptive, intelligent, and quick to act when danger is present. They continuously patrol the clients' properties to get rid of risks.  Additionally, a number of training courses are organized for the guards to keep them proficient and knowledgeable about contemporary security methods. Power drills, programs for making quick decisions, intellectual development programs, and other activities are among the required training sessions for APS guards.  Because of this, APS guards are extremely qualified to handle any security situation.
The fact is that APS has been in the security industry for over 26 years, giving it a high level of effectiveness to provide clients with top-notch security protection.  Before offering security services to clients, a thorough security plan is created, taking into account all the vulnerable areas of the client's property. Then, for complete security coverage, armed, unarmed, stationary, and mobile guards are assigned to the client's premises. Additionally, because technology plays a big part in APS, the guards are given access to a variety of cutting-edge security tools, including CCTV cameras, GPS monitoring systems, radio transmitters, metal detectors, scanning machines, mobile devices, flashlights, cloud software, infrared thermometers, automatic sanitizers, and many more.
Additionally, APS provides its customers with a customization option so they may select security criteria based on their requirements and preferences. Therefore, get in touch with APS as soon as possible if you're looking for a highly skilled security firm in Irvine & Anaheim, CA that offers quality security service.
Contact Access Patrol Services at 866-770-0004 with questions about security guard duties, responsibilities and functions for commercial office properties in California and Arizona or click on https://accesspatrolservice.com