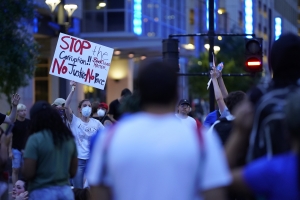 We all look forward to a peaceful social life filled with harmony. However, there are times where social life does not go the way we want it to be. Public protests, strikes and vandalism have become a regular affair in our social life causing disruption of daily activities.
Strikes and protests not only hampers the usual flow of public activities but affects the industries and businesses severely. Huge amount of loss is suffered by business houses during a strike due to a sudden halt in trading and operation. Apart from this, vandalisms are also a common sight during protests and strike. It might or might not be for a good cause but the damage that occurs stays for a long period of time and takes time to recover.
In fact, amid the pandemic there have been number of news flashing public strikes in the United States of America. In New York, many "essential" workers protested against the low pay, working condition and lack of protection giving rise to a massive strike. Again, thousands of people gathered on the streets and went aggressive and hostile during the George Floyd protest. They were seen vandalizing public properties to raise their voice against the crime committed by a policeman. However, it is also a hard fact that many people join public protests and strikes not just to support the cause but to trigger chaos, so that they can carry out their devious motives.
Since public protest are usually accompanied by large crowds, slogans, chaos and vandalism it is essential to employ specialized strike and protest security guards to ensure full protection and safety of your business and property. Overlooking the importance of employing security guards who are not specially trained to control such situation might not be a wise decision.
APS is a security guard company in San Diego that provides rigorously trained security guards to control or manage crowds. Our guards are robust, dependable and tough to tackle critical situations that arises from protests, strikes etc. Total protection is ensured when you are associated with us. The guards have the ability to take full control of the situation with determination; to ensure no damage is occurred during the protest.
Our guards are highly committed to their job, they can go to any extent to protect you and your business from any threats. The specialized strike and protest security guards have the ability to take quick and immediate action. Therefore, if you choose us, we can assure you that at times of emergency nothing can harm you or your business
APS also provide 24- hours service facility and hence, our guards are attentive and vigilant all the time. Hence, if you are searching for a capable security service provider that can provide resilient security service then call us.
Contact Access Patrol Services at 866-770-0004 with questions about security guard duties, responsibilities and functions for commercial office properties in California and Arizona or click on https://accesspatrolservice.com