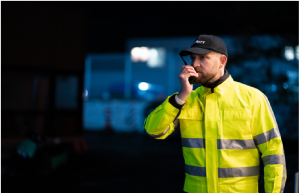 In today's time, keeping tensions at bay isn't easy.  You switch on the T.V and you will be bombarded with crime news. Murders, robberies and thefts, etc., are common news running all over the media. And now, you might argue that since media covers mostly crimes news it is giving us an exaggerated idea about the crimes occurring in the nation. But the real fact is, many crime news also go unreported.  If you have a look at the statistics homicides in San Diego, Oakland, Los Angeles are up by 17 % in 2021. Therefore, in this pressing time, it is of utmost necessity to get professional security protection from a veteran security company like Access Patrol Services (APS).
APS has highly experienced and BSIS certified and trained security guards who are proficient to handle all types of critical situations. They are trained to identify potential threats and thus possess the ability to prevent crimes from occurring at your premises or to you as well. The fact is, APS has been in the security market for more than 25 years and thus hold strong efficacy to deliver the best and most accurate security service at a reasonable rate.
APS believes that it is essential to keep the guards trained from time to time to enhance their existing skills and flexibility.  Hence, APS includes power drills, rapid decision-making programs, intellectual development programs etc., to the training sessions which are conducted at frequent intervals. Thus, the guards of APS are highly efficient and robust to provide superior security protection in Mira Monte & Oak View, CA to clients.
Besides, the guards are aware of their responsibilities and thus patrol the premise of the client to discard fishy activities which may threaten the safety of the client.  Therefore, you can 100% trusts the guards of APS as they are professionally trained and experienced security protectors.
Most important, technology is a vital part of APS.  Therefore, CCTV cameras, GPS monitoring systems, radio transmitters, mobile devices, flashlights, metal detectors, scanning machines cloud software, infrared thermometer, automatic sanitizer and many more appliances are used by the guards of APS for rendering seamless security service to clients. This is the reason why APS has been marked as the most professional security guard company in Mira Monte & Oak View, CA.
Also, APS is an immensely customer-centric organization thus personalization facility is offered to its clients so that they can choose security specifications as per their needs and preferences.
Therefore, if you are searching for a highly professional security guard company in Mira Monte & Oak View, CA for superior security protection, then get in touch with APS ASAP. 100% guaranteed professional service will be delivered to you at an affordable price.
Contact Access Patrol Services at 866-770-0004 with questions about security guard duties, responsibilities and functions for commercial office properties in California and Arizona or click on https://accesspatrolservice.com