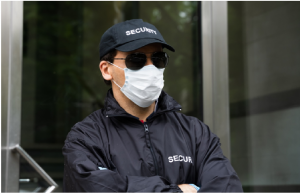 The crime rate is inflating speedily and in this taxing situation if we aren't careful about our safety and security then we might have to repent it later.  Convicts these days have turned more fearless and spontaneous.  With the misuse of advanced technologies, they are able to commit crimes without any fright of getting caught. So, this is high time to secure ourselves with professional security protection from a reliable source like Access Patrol Services (APS) to avoid falling victim to uncertain dangers.
We, APS are the top security guard company in Ontario & Chino, CA that has an army of professional security protectors to provide absolute protection to clients. We only appoint BSIS certified guards in our organization to ensure high-quality security service is delivered.  Note, we do not deploy uncertified guards to clients and so clients can utterly trust us for receiving professional service. Besides, customarily we train our guards to boost their existing skills.  The training session usually consists of crowd control management, intellectual development programs, power drills, first responder awareness programs, rapid decision-making programs, etc. Consequently, our guards are extremely skilled to render absolute protection to clients.
Also, we continuously adapt new-age technologies to serve flawlessly to meet the evolving needs of the clients. Therefore, GPS monitoring systems, CCTV cameras, radio transmitters, mobile devices, metal detectors, scanning machines, infrared thermometers, etc ., are some of the gadgets that are extensively used by our guards for providing superior security protection in Ontario & Chino, CA to clients.
Besides, we truly recognize the fact that security emergencies can arise at any time and at any moment, thus round the clock security service facility is offered to the client for maximum protection. Apart from this, since our guards are trained so meticulously, they are highly intelligent to sense impending danger and have the proficiency to make rapid decisions in times of need.
Above and beyond, we are highly process-driven which is why we are a highly preferred security company in Ontario & Chino, CA. We precede our services by primarily visiting the assigned area to understand the layout, to identify the critical areas and to chalk out an appropriate security model based on the assigned site. This process is mandatorily followed by us to provide accurate security solutions.  Moreover, we ensure that client's premise has a proper mix of mobile, unarmed, static, and armed security guards.  Hence, you can have complete trust in us for your safety and security.
Besides, we provide a complete customization facility to the client so that they can choose security specifications as per their needs and preferences. Therefore, if you are searching for the top security guard company in Ontario & Chino, CA for superior security protection then gets in touch with us ASAP.
Contact Access Patrol Services at 866-770-0004 with questions about security guard duties, responsibilities and functions for commercial office properties in California and Arizona or click on https://accesspatrolservice.com