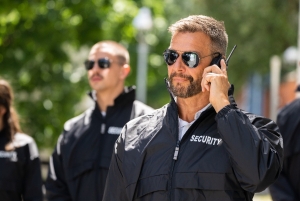 When businesses need a security guard–whether on a temporary or permanent basis–they usually turn to a security guard company to supply the needed staff. How do you know your guards will be the most qualified? Much depends on the security guard company you retain. Here are some tips to ensure the guards assigned to your business have the right set of skills and experience.
Proper Licensing. The guard company you select must be licensed and registered in your state and its guards must have completed state guard training and also be licensed. In California, these licenses can be verified through the state's Bureau of Security and Investigative Services (www.bsis.ca.gov). Each guard must also participate in 40 hours of more training administrated through the guard company. Verify that this training is complete
Ask About Additional Training. As we've seen with the pandemic over the past two years, security guards are being asked to do much more. If your business requires specialized security services (including pandemic-related security), ask the guard company if its guards have gone through training in these specific areas. Security firms with long track records will have a strong training regimen above the minimum training required by the state.
Ask For References. Don't hesitate to ask for references. If you need guards, for example, to screen for vaccination verification, provide event security, patrol an enclosed garage or a gated community–ask the security guard company for references from those clients with the same security needs. That way, you'll know the guard company has the experience providing the proper service.
One of the most respected guard companies is Access Patrol Services. It provides both armed and unarmed security guards.
For more information about security guard services in California, call Access Patrol Services at 866-770-0004 or click on https://accesspatrolservice.com.