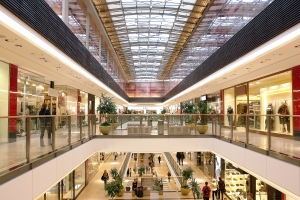 Get superior protection for shopping malls by choosing the best security guard services in Yorba Linda & Chino, CA
There is no denying the fact that shopping malls have become extremely popular in modern day lifestyle. While people go to a shopping mall to have a good time the authorities of these centers have a big role to play.
Mall authorities need to make sure that the entire space is safe and secured. There are several types of people visit in a mall and so it is important to check every body's belonging before they enter the premises. If you see the bigger picture, specialized security guards are required to not only just check the visitors at the entry and exit gates but have a wider role to play to keep the place safe.
A shopping mall being an attractive destination for all age groups, security guards need to keep an eye on the movement of all the visitors. You would find posh showrooms, elegantly decked up stores showcasing pricey items lined up on multiple floors of the mall. It is the security guards deployed here that makes life easy for the store owners as they can run their business without the fear of being robbed or theft. Moreover, controlling a crowd isn't a piece of cake. Therefore, professional and trained security guards are needed to ensure no commotion is caused nor the mall operation is disrupted in any way.
We, Access Patrol Services (APS) are a well-known security service provider offering end to end security services at shopping malls. Our guards are trained by expert veterans and therefore, they are highly skilled at patrolling, checking and taking necessary steps to control any kind of critical situation.
Our company being a technologically secured enterprise, we use the best security gadgets and equipment to render our services to our esteemed clients. For instance, our guards are equipped with metal detectors, GPS monitoring system, screening machines, mobile phones, walkie talkies or radio transmitters and many more. One of the reasons our company has been able to garner a good market reputation is due to our passion towards rendering top quality security guard services in Yorba Linda & Chino, CA. All our security guards are BSIS certified, which is an indication of how reliable our guards are. Moreover, we offer customized security services depending on the exact requirements of our clients.
If you are looking for an effective security guard services in Yorba Linda & Chino, CAat affordable rates then get in touch with us today! We deploy only professional and trained security guards services in Yorba Linda & Chino, CA to client site.
Contact Access Patrol Services at 866-770-0004 with questions about security guard duties, responsibilities and functions for commercial office properties in California and Arizona or click on https://accesspatrolservice.com