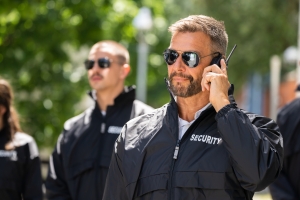 Honestly, we all are so familiarized with daily crime news that we hardly care. Isn't it? Now, think deeply.  Why all the time news channels and newspapers are flooded with crime news? Yes, you guessed it right! Crime numbers are surging intensely. Murders, thefts, extortions, larceny, arson, robbery are frequent occurrences. And so, ignoring or overlooking the importance of employing security services in today's time can be perilous. Therefore, it is advisable that you get robust security protection from a genuine security service provider like Access Patrol Services (APS).
APS has a team of skilled and professional security guards who are proficient to deliver absolute security protection to clients. The guards are all BSIS certified and hence no uncertified guards are deployed at the client site. Besides, vigorous training is also provided to the guards to keep their flexibility and skills intact. Apart from this, APS consistently updates its techniques, technologies, and methodologies to meet the evolving security needs of the current era. Therefore, the service quality of APS is quite impeccable.
In fact, the guards of APS are trained so meticulously that they possess the ability to detect uncertain threats. Thus, they are also adept at making quick decisions in times of emergencies. Further, the guards remain active and vigilant 24 hours to provide strong security protection to clients. They keep patrolling the assigned premise to ensure it is free from suspicious activities.
Moreover, since APS has been in the security service field for more than 25 years, the company holds high capability to render accurate security solution to the client. The fact is APS has been marked as the most trustworthy security guard company in San Francisco & San Jose, CA due to the relentless security service delivery to clients.
Most importantly, before providing security service to any place, APS 's security specialist first chalks out robust security model based on the layout of the assigned premise to provide absolute security protection. Besides, APS immensely values customer's needs and preferences and so they ensure the requests of client's are compulsorily met. Moreover, the clients also have full liberty to cancel the contract at any point if not satisfied with the service quality. However, that is rare to happen.
Moreover, many advanced gadgets such as CCTV cameras, GPS monitoring systems, radio transmitters, mobile devices, flashlights, metal detectors, etc are used to provide errorless and strong security protection.
Therefore, if you are searching for a trustworthy security guard company in San Francisco & San Jose, CA then gets in touch with APS ASAP.
Contact Access Patrol Services at 866-770-0004 with questions about security guard duties, responsibilities and functions for commercial office properties in California and Arizona or click on https://accesspatrolservice.com