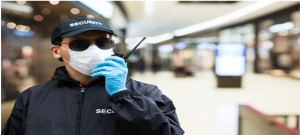 For business owners, taking responsibility for the safety and security of their clients, staff, and assets is crucial. There are many security challenges that companies must overcome. Identifying your security deficits and figuring out what to do regarding them can be difficult. Even if we have technology that claims to provide outcomes, the presence of a uniformed security guard can never be substituted.
A competent and professional security guard demonstrates your dedication to security and also signals potential offenders that they should not attempt illicit activities on your premises.
Continue reading to understand how your business can benefit from hiring uniformed security guards in Mission Canyon.
They function as a deterrent to crime
The mere sight of a uniformed security guard deters criminals more than anything else. With top-notch security management services from Access Patrol services, you have one less worry: our guards are trained to recognise any unusual activity and take steps to prevent it.
They provide you with a greater sense of safety
Particularly in high-risk locations or for individuals who sell expensive goods, having a security guard present gives peace of mind. In addition, employing security staff from reputable security firms signals to criminals that you have adequate measures to protect your assets and are prepared for any emergency.
There are numerous advantages to hiring competent and experienced security guards for your company. First, having security guards on board is always an excellent move, no matter whether you own a startup or a Fortune 500 company.
They provide outstanding customer service
Security guards are also proficient in other client-centric tasks within a business setting, like addressing your customers' queries, escorting them to respective cabins or parking lots etc., even though their fundamental duty is to deter crime and keep you safe.
Security guards at Access Patrol Services receive thorough training in all facets of customer care, including greeting guests, taking calls, and more. This is a win-win situation for you since you get a multi-functional resource at the cost of one. Thus, you can save time and money by hiring people to fill different positions.
Quick resolution of security concerns
Uniformed security guards are skilled at managing stressful circumstances without interfering with your regular business affairs. They can even handle minor first-aid emergencies and basic firefighting if necessary. They can also communicate with law enforcement agencies for a smoother transition if a subsequent investigation is required.
Are you looking for uniformed security guards in Mission Canyon?
Contact Access Patrol Services at 866-770-0004. For more details, click on https://accesspatrolservice.com.