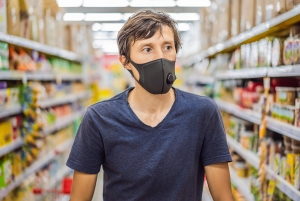 Criminals are taking advantage of the current health crisis and mask requirements to rob grocery and convenience stores. Since customers entering stores are wearing gear that covers their face, storeowners can't tell who is an actual customer and who is a robber.
In Santa Ana, robberies have increased 50 percent since the lockdown according to Santa Ana Police. Police suspect the increase is fueled by the release of inmates to reduce the spread of the coronavirus in jails.
In Vista, California, gunman wore a surgical mask to hold up a gas station. And in Redlands, two robberies took place—one at a gas station and another at a 7-Eleven. In each case, the robbers wore hooded sweatshirts and white surgical masks.
As long as wearing masks in public is the norm, store and gas station owners need to be on high alert for criminal behavior. It will continue to be difficult to tell the good guys from the bad guys.
Retails Security Guards. Studies show that when people wear masks they are more likely to feel emboldened. Masks can give criminals the confidence to commit crimes. With the number of robberies on the rise, it's important to have security guards onsite. They are trained to look for individuals acting suspiciously, mask or no mask.
Physical Deterrents. Uninformed security guards offer the best deterrent to would-be robbers. Stores can also take additional security steps.
–Keep store windows areas free of signs and products so the inside of the store can be clearly seen from the outside.
–Make sure parking lots and entryways are well lit.
–Add visible security cameras around the location and have them reviewed in real time. If suspicious activity occurs, the onsite security guard will be notified immediately and police called when necessary.
We live in unsettling times. Essential businesses must not only keep employees and customers safe from health risks, but also take precautionary steps to keep their businesses safe from criminals.
Contact Access Patrol Services at 866-770-0004 with questions about store security guard duties, responsibilities and functions or click on https://accesspatrolservice.com.