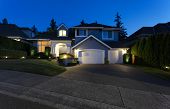 If your vacant home is a constant worry for you while you are away, then it is imperative to arrange professional security guards to protect your house from uncertain dangers. Undeniably now a days, thefts, robberies and vandalisms are some of the most common risks for any vacant properties.  Therefore, before you leave for any business trip or vacation do provide robust protection to your property.
We, Access Patrol Service (APS) are a top security service provider in Marysville & Yuba City, CA that offers highly premium security protection to vacant properties. Besides, due to our vast experience of about 25 years in this field we do have the ability to identify all the potential threats of vacant properties. Moreover, before catering security service to vacant homes, our security specialist first observes the area and then chalks out a comprehensive security model. This process is mandatorily followed by our organization as it helps in allocating the right number of security guards to the site.
Besides, to ensure premium quality service delivery, only BSIS certified guards are allocated to the client site. Besides, our vacant home security guards  in Marysville & Yuba City, CA are trained frequently to keep the service quality up to the mark. Also, our vacant home security guards in Marysville & Yuba City, CA patrol the entire site frequently to keep a thorough check on the client property. This facility is particularly beneficial as it helps the guards to diffuse suspicious activities which may pose threat to the property.
Therefore, we can strongly say that, APS guards are highly efficient, vigilant and robust to deliver ultimate security protection to the client property. Moreover, they also have unique capability to identify impending danger immediately and thus can act accordingly. So, our protectors are also quick decision maker who can act rapidly to deter crimes from occurring.
Now, the most important factor is we are highly tech driven firm and so numerous advanced technologies such as RFID tags, CCTV cameras, GPS monitoring system, biometric access control system, radio transmitters, metal detector, scanning machines, flashlights, cloud software, mobile devices and other latest gadgets are used by our guards for flawless service delivery.
Furthermore, we provide customization option as well so that our client can choose security specification as per their needs and preferences. Therefore, if you are searching for a resilient security service provider in Marysville & Yuba City, CA for protecting your vacant property fully, then do get in touch with us ASAP.
Contact Access Patrol Services at 866-770-0004 with questions about security guard duties, responsibilities and functions for commercial office properties in California and Arizona or click on https://accesspatrolservice.com