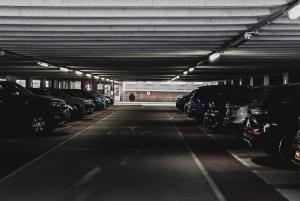 In 2022, 1,001,967 vehicles were stolen in the U.S., a 200,000 increase since 2019 and the highest number in 15 years. According to the National Crime Information Center, California led the way with 202,685 stolen vehicles last year. Bakersfield had the highest theft rate in the nation. Many of these vehicle thefts occur in retail and business parking lots and garages. Adding security guards to these vulnerable areas is an effective way to reduce these numbers.
Security Guard Protection. One of the best ways to prevent vehicle theft and break-ins in retail and business parking areas is a strong security guard presence. Guards patrol on foot, in cars or in golf cart-type vehicles. Car thieves think twice about attempting a crime when they know guards are actively patrolling.
Part of the guard service is to escort shoppers or employees to their cars. Especially at large shopping malls, thieves follow shoppers to their cars to rob them or to gain easy access to their vehicles. Guards walk or drive patrons to their cars to make sure they are safe.
Video Surveillance.  Another valuable security tool is real-time security video cameras. Cameras are mounted strategically around the parking area with feeds monitored live by off-site security personnel. If a camera reveals suspicious activity, onsite security is alerted immediately.
Access Patrol Services is a bonded and experienced security guard company that provides parking lot security in California and Arizona—security guards and video surveillance services.  All our security guards are licensed.
For more information about parking lot security services, call Access Patrol Services at 866-770-0004 or click on https://accesspatrolservice.com.