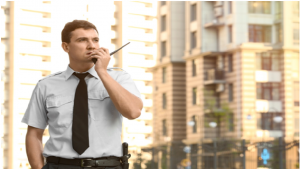 If you are an owner of a firm or company, one of your primary concerns must be to ensure the safety of the employees.   The reason is workplace safety often contribute majorly to higher productivity level. Besides, convicts often think more than twice to break in or commit crimes on premises that are tightly secured. So, lately, if you are planning to escalate security measures at your organization, then hire top-quality security guards from Access Patrol Services (APS).
APS offers experienced and BSIS-certified guards to the client's site. BSIS certified guards are adequately trained security protectors who are capable of handling extreme critical situations and can respond appropriately during times of emergency.  Certified guards are provided extensive training on different aspects of security service which includes power drills, first responder awareness programs, rapid decision-making programs, crowd control management, etc. Hence, securing your premises with certified guards is of utmost necessity to get your peace of mind back.
Technology is another aspect of security that has paramount importance. Hence, it is essential to adapt advanced technology from time to time to cater to the security needs of today's time.  With the help of advanced technology such as CCTV cameras, radio transmitters, scanning machines, metal detectors, automatic sanitizers, GPS monitoring systems, etc., securing premises becomes a lot easier.  And, hence APS equips all their guards with state-of-the-art equipment to completely protect the premises from uncertain dangers.
The fact is APS has been offering top quality security facility for more than 26 years.  It is a veteran security company in Colton & Rialto, CA that has expertise in rendering accurate security facilities to all types of premises or clients.  A solid and exclusive security plan is formulated by APS's specialist before providing services.  The security specialist identifies all the weak points of the client's premise and then creates finalized security model to prevent crimes from occurring.
Lastly, APS is open to customized services. It formulates security plans and strategies aligning with the preferences of the customers. Plus, APS provides immediate improvisation or incorporation of special security features to the existing contract to meet the urgent request of the client.
So, if you are searching for a highly professional and veteran security company in Colton & Rialto, CA for top quality security facility, then get in touch with APS for the same.
Contact Access Patrol Services at 866-770-0004 with questions about security guard duties, responsibilities and functions for commercial office properties in California and Arizona or click on https://accesspatrolservice.com