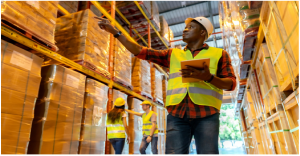 Warehouses and distribution centers are stuffed with expensive inventories and equipment and so it is pretty lucrative tract for convicts to perform loot and plunder. You would be shocked to know that recently near about $100000 worth of Apple products was stolen from the warehouse of Amazon and the loot was carried out by the employees only. Therefore, it is important for every business owner to not only keep a check on the external threats of warehouses but also internal thefts for preventing losses.
Our organization, Access Patrol Services (APS) is a prominent security guard company in Los Feliz & Hollywood, CA that provides integrated and innovative security solutions based on the security need of an area or place. We have a substantial knowledge about the security complexities of warehouses and thus formulates distinctive security plan to ensure complete protection. The vital aspect of our organization is, only BSIS certified security guards are employed in our organization and so, no unskilled or uncertified guards are deployed to client site for rendering security service.
We do recognize that warehouses are prone to both external and internal thefts and until and unless security guards are extremely vigilant it is impossible to deter or prevent crimes. So, we train our guards extensively to enhance their flexibility and intellect level. Our guards thus have the ability to spot or detect proximate danger instantly and so can act quickly to prevent the crime from occurring.
Besides, before rendering security service to warehouses, our security specialist first analyses the area and then position right number of armed, unarmed, static and mobile security guards for absolute protection of warehouses.
Honestly, we have been in this domain for more than 25 years now and so we have substantial experience to cater accurate security need of any complex areas. Besides, we have also been tagged as one of the most trusted security service provider in California due to our unparalleled security service delivery. Besides, we're insured and bonded for up to $1 million.
Also, advanced technologies such as RFID tags, CCTV cameras, GPS monitoring system, biometric access control system, radio transmitters, metal detector, scanning machines, flashlights, cloud software, mobile devices are used by our guards for total warehouse security guard company in Los Feliz & Hollywood, CA. In addition to this, we provide customized security solutions as well so that clients can choose or add security specification as per their needs and preferences.
So, if you are someone looking for a highly professional security guard company in Los Feliz & Hollywood, CA for complete warehouse security, then get in touch with us ASAP.
Contact Access Patrol Services at 866-770-0004 with questions about security guard duties, responsibilities and functions for commercial office properties in California and Arizona or click on https://accesspatrolservice.com