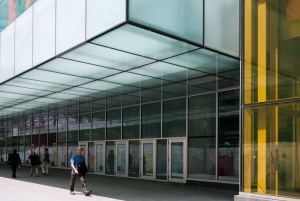 Many employers are mandating that workers return to the office at least part-time. More employees now physically at work means business owners and property management firms need to ramp up the number of office security guards at these locations.
Office Security. During the height of the pandemic, most workers did their jobs remotely. Security guards primarily focused their attention on property security. Empty buildings and offices needed to be protected from intruders.
Now that the threat of COVID has lessened and workers are returning to work at least a few days a week, their safety is a major part of the guards' responsibilities. Guards are stationed at entrances, checking in visitors and making sure that only those authorized can enter. They patrol parking garages and help employees and visitors to their vehicles when requested. Guards escort terminated and unruly employees/visitors out of the building and if an emergency occurs, they take the lead on evacuations and provide other safety measures.
While the numbers of office workers may never reach pre-pandemic levels, those who do return need to work in a safe environment. A strong guard presence helps furnish that security.
Access Patrol Services has been providing office building security for over 30 years. Contact APS at 866-770-0004 with questions about our guard services in California and Arizona or go to https://accesspatrolservice.com.