Armed Private Security Guards Patrol Beverly Hills As Crime Increases.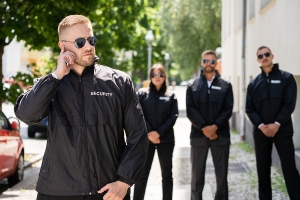 An alarming increase in robberies in stores and restaurants in Beverly Hills has overwhelmed the police, prompting the city to hire armed private security guards to keep the community safe. The latest act of violence was the robbery of a half a million-dollar watch from a man having lunch on the patio at Il Pastaio.
Beverly Hills isn't the only city experiencing a spike in violent crime. As more restaurants return to outdoor dining and people begin to venture outside, criminals are targeting individuals wearing expensive jewelry in cities throughout Los Angeles County.
Security Guards Support Police. Police officers can't be everywhere. That's why police departments are hiring armed private security guards to help reduce crime.
Armed guards are a visible presence on streets and other public places. This security force sends a message to would-be robbers that if they attempt a criminal act, guards are nearby and the robbers will likely be caught.
Crimes of Opportunity. Business and home robbery statistics are actually down as many stores are still closed and people are staying home. That means robbers are looking for other ways to steal. They are becoming more desperate and attempting to rob from people in public places.
Expect security guards to play an ever-increasing role to deter robberies and violent crime in Beverly Hills and cities across Los Angeles County.
Access Patrol Services is a top security guard firm with over 25 years of experience protecting property and people with fully licensed armed and unarmed guards. It's insured and bonded for up to $1 million.
For more information about security guard services in Beverly Hills and throughout California and Arizona, call Access Patrol Services at 866-770-0004 or click on https://accesspatrolservice.com. APS can deploy security guards to you location immediately upon request.