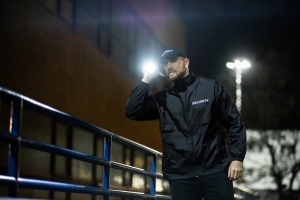 If you want to lead a life without anxiety and fear and don't want to compromise on your safety, then you must consider robust security protection from a reliable and professional security guard company in Reseda & Lake Balboa, CA. Professional security guards hold high proficiency to cater the right security service or to protect you from various uncertain dangers.
We, Access Patrol Service (APS) are one such security guard company in Reseda & Lake Balboa, CA that can ensure you total protection from any kind of uncertain threat. We provide only trained and professional security guards on the site who are BSIS certified. Besides, our organization has been in the security service field for more than 25 years, so we can provide absolute protection and can meet all your security needs.
The most important aspect of our organization is, we prioritize customer's needs and wants and hence before formulating security plan, our security specialist ensures that all the preferences of the client are taken into account. For instance – if our customer demands more of armed security guards than unarmed guards or more of vehicle patrol guards than foot patrol guards, we make it certain that all the requirements are delivered immediately or within a short span of time.
The striking features of our guards are they have high ability to sense impending danger and thus can act quickly during any emergency situation. They are fast, flexible and vigilant. Moreover, our company strictly follows "zero tolerance to unprofessionalism". Therefore, all our armed and unarmed security guards are also highly courteous towards our client. Unprofessional behavior is not a tall tolerated and hence immediate action is taken against if any of our security guards are found guilty or unprofessional.
Besides, we also provide 24 hour service facility along with foot patrol and vehicle patrol facility so that our client can avail security service at any time of the day. We provide patrol service to keep a detailed check on the client site to ensure total safety or to diffuse suspicious activities which may pose threat to the client.
Moreover, we are highly tech driven company and hence to cater flawless service we greatly take the help of advanced technology. For instance -usage of RFID tags, CCTV cameras, GPS monitoring system, biometric access control system, radio transmitters, metal detector, scanning machines, flashlights, cloud software, mobile devices, infra-red thermometer, automatic sanitizers are significantly used by both our armed and unarmed security guards.
Therefore, if you are searching robust security service provider, then do contact APS for the same. We ensure 100 % protection to our client.
Contact Access Patrol Services at 866-770-0004 with questions about security guard duties, responsibilities and functions for commercial office properties in California and Arizona or click on https://accesspatrolservice.com