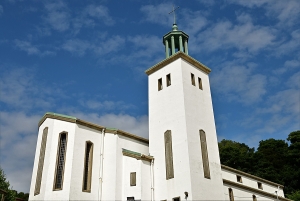 It's always heartbreaking to hear about a fire at a church. Such was the case when a fire caused damage to a nearly 100-year-old church in Watts. While the cause of the fire is unknown, it brings to light the need for church fire prevention and security to protect sanctuaries from harm.
Securing Church Property. Security guards assigned to churches and other houses of worship patrol the grounds looking for trespassers. If they spot a suspicious person, the guards detain the individual, ask questions and if necessary, contact law enforcement.
Houses of worship have been the target of illegal acts for years. Lately, the number of instances has increased. When a church, synagogue or temple is vandalized, the financial responsibility for repair falls on members, which is often a significant hardship.
Use of security guards, especially by houses of worship in high crime areas, should be part of the operating budget. Arson and vandalism can be prevented with regular security patrols. Vandals are less likely to carry out their criminal activity if they know there are guards onsite.
Not every fire is arson. Guards can also quickly detect an accidentally-started fire and call the fire department before much damage occurs.
Access Patrol Services (APS) assigns security guards to locations to prevent fires and provide post-fire guards who stop individuals from entering a fired damaged building.
APS services houses of worship in cities across California and Arizona. If you'd like to discuss your church, synagogue or temple's security needs, call Access Patrol Services at 866-770-0004 or click on https://accesspatrolservice.com.