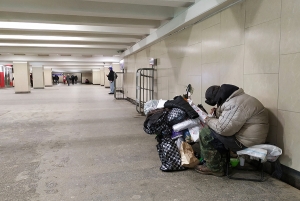 Random acts of violence by homeless people against workers at public transportation sites have prompted Los Angeles County officials to hire security guards to keep employees and riders safe.
Under pressure from worker unions, the Los Angeles County Metropolitan Transportation Agency agreed to add more security to Union Station in downtown Los Angeles. Employees are regularly verbally and physically attacked by homeless people. According to a Los Angeles Times article, homeless individuals, often with mental illness, use Metro stations and bus and train facilities for shelter. Union Station has the largest numbers.
Keeping Workers and Passengers Safe.  Workers shouldn't have to fear going to work, and passengers shouldn't have to worry about being assaulted when riding public transit. To help reduce random acts of violence and other criminal behavior at transportation hubs, security guards are being assigned to monitor individual behavior and respond when necessary.
Dealing With The Homeless. Because the homeless can have mental illnesses or be on drugs, security personnel assigned to areas where homelessness is an issue must have experience addressing erratic or violent behavior. Security guards are trained to de-escalate situations using their verbal skills. This will often be sufficient to calm someone who is agitated. In cases where verbal communication doesn't work, security guards focus on protecting victims and physically subduing a would-be attacker.
Addressing the homelessness crisis to ensure the safety of all is a delicate balance. Until the homeless get the help they need and are off the streets, more public and private facilities will need additional security guards to keep workers and patrons safe.
Access Patrol Services (APS) employs trained and experienced security guards in California and Arizona to guard public facilities and private businesses.
If you'd like to discuss your security needs, call Access Patrol Services at 866-770-0004 or click on https://accesspatrolservice.com.