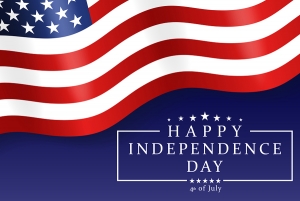 As we celebrate America's independence, it may be an appropriate time to reflect on how far we've come from the days when our country was founded. Through the many trials and tribulations that go with growing a country, we've managed to stay strong and always strive to improve.
We've changed from an agriculture-based country to industrial-based—a good thing since most of us don't have the skills to be farmers! Our population is a mix of wonderfully diverse people from every part of the world who have contributed enormously to our nation. Technology makes our personnel and work lives easier. The average life expectancy in 1776 was age 36. Because of medical advances, life expectancy is now 79. We can have confidence that our food supply is free of dangerous disease. We have the ability to travel the world (when not in a pandemic) and experience sights and cultures earlier Americans could only read about in books.
Although many July 4 public celebrations are cancelled this year and the pandemic is still ravaging our nation, there is still much to be thankful for. Medical experts from around the country and around the world are developing medicines to cure the virus. We are slowly getting back to work—while still adhering to safety guidelines that the majority of us understand is vital to America's long-term health. We are best Independence day fire Watch security guard
There is optimism that all of us are coming to understand that treating everyone with dignity will make us all better human beings.
That's a lot to celebrate this July 4!
Call us for Independence day fire Watch security guard