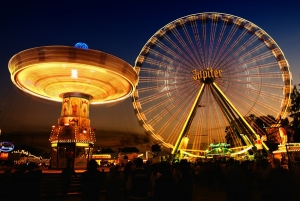 Summer is right around the corner. With outdoor events slowly starting to make a comeback, now is the time to start thinking about event security guards for your upcoming festival.
New Event Security Duties. Depending on the city or county regulations where the event takes place, be prepared to have security guards stationed at entrances to make sure visitors are abiding by any required health and safety measures. Hopefully, those measures will be considered no longer necessary by health officials by the time summer comes, but still, factor in the number of extra security guards you'll need and a larger security budget.
Necessary Security. Security guards are the first line of defense to keep guests safe. They handle unruly guests and gatecrashers, which they'll remove from the site and call law enforcement if necessary. They patrol parking lots to ensure vehicles are not damaged and contents stolen. They provide traffic control so vehicles move easily in and out of the event site.
Security guards also perform an additional critical task. They take the lead when there is an emergency–natural or man-made. Guards work with event organizers to develop an evacuation plan and discuss how the plan will be implemented depending on the situation. Scenarios range from addressing fires and earthquakes to an active shooter. Nothing is left to chance.
Security has become one of the most important components of festival planning. Having the proper security in place means event organizers can devote more time to ensuring that festival-goers will have a fun and memorable experience.
Access Patrol Services, one of the best security guard companies in California and Arizona, provides security guards for events in cities throughout each state. If you'd like to discuss your event security needs, call Access Patrol Services at 866-770-0004 or click on  https://accesspatrolservice.com.