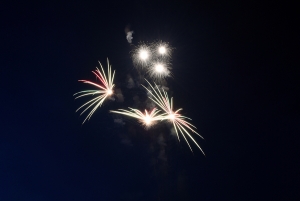 The National Safety Council says over 12,000 people in the U.S. are expected to seek medical assistance for serious fireworks-related injuries and more than 18,000 fires are likely to occur during the Fourth of July holiday. Public and private property owners are hiring security guards to stop the illegal use of fireworks and to immediately report fires at their locations, says Access Patrol Services (APS), a security guard company serving California and Arizona.
The National Safety Council notes that most firework injuries occur when nonprofessionals attempt to use professional-grade or homemade fireworks. It says that the use of fireworks continues for several weeks after July 4 so the danger of injury and fires remains high through mid-July.
"Individuals will sometimes go to an empty parking lot or other public place where they think it's safe to launch fireworks into the sky," says Fahim Abid, APS security director. "That's a bad idea. A spent firework is still extremely hot. It can land on a rooftop causing the roof to catch fire. By the time firefighters arrive, the building could be fully engulfed."
APS security guards are assigned to retail centers, public parks, beaches, gated communities, schools and other locations. The guards' first line of defense is to keep trespassers out. If guards see a firework land on the property, they will immediately respond using fire extinguishers and, when necessary, call 911.
"The 911 operators are always overloaded with calls around July 4," says Abid. "The number of calls may be even higher this year since the amount of legal firework sales is at a record high because public firework shows are canceled. Having private guards on your property is one way to ensure it remains safe and secure."
Contact Access Patrol Services at 866-770-0004 with questions about security guard fire protection duties and responsibilities in California and Arizona or click on https://accesspatrolservice.com.